Man… it has been a hot minute since I have had the time or.. honestly, the urge to write anything. Life has been busy. So BUSY. We all say that don't we? Then we lie to ourselves and say "When school is back in session it will slow down." or "When summer comes it will slow down." Silly. Life is racing at a break-neck pace and it ain't slowin' down anytime soon.   This is why its been over a year since my last blog post.
Today at the last minute I decided we were going to do our family photos. It is the only day that I have not slotted for photographing other families until mid November, and it was 70 degrees out. My brother in law is in town along with my sister and two nieces (and another on the way!) I know I can trust him to pass off my camera to. He isn't a photographer by any real stretch, but he has a very artistic eye and if I get things set for him he can usually nail the shot I am looking for.
The house was hot. Shane was irritated, because the last thing he wanted to do was get dressed up for photos before leaving to play golf. Max was screaming about one thing or another. Chloe had dirt on her face and had destroyed the gorgeous curls I spent 20 min perfecting, and she was crying about something being in her eyeball. Clem was ours for the day because her mama was at work and she wanted to come with. I couldn't bare the thought of bringing her but not letting the child be in the photos with us. So we quickly picked a dress that was too short and some summer sandals (because they were better than light up tennis shoes.) and headed out the door, me barking orders and sweating like a pig the whole way to the car.
The sun was higher than I preferred it to be but I was just happy to take what I could get. We rounded the corner for the location I had chosen and I said out loud "Please God just a little shade…" Blessed be His name, there was just enough shade to pull out a quick family shoot.
We park, unload the kids, I have to carry Max because his little legs couldn't keep up. We walk about an 1/8 mile down the path to the spot I saw from the road. The light is magic. Warm and dancing though the tall blades of grass. Images of our spectacular family photos drifted through my head as I directed everyone and got my camera settings ready for my brother in law.
Tall grass surrounding us, everyone smiling except of course Mad Max who was growling at his Uncle Justin.  We pose then go into candid mode.  The kids are laughing now, so are we.  Frustration melts away as we giggle with each other. The camera fires.  Precious moments, frozen time, my treasure. 
About half way through the shoot, the kids started to unravel, per the norm of EVERY FAMILY SESSION EVER (I promise) Then Justin asked a question about the camera focus being off… and my stomach flipped.  I FORGOT!  How could I forget!???  I don't use the shutter button for auto focus because I re-compose quite often.  I have a back button on my camera set for auto focus and I FORGOT TO TELL HIM!!!  The entire way to the location I kept saying to myself "Don't forget to tell him about the BBF (back button focus)."  But with the chaos that is wrangling two two year olds and a seven year old for pictures distracted me and the words never escaped my lips. 
At this point it was too late to start over.  Max was wailing.  Chloe was complaining about one thing or another.  Shane was ready to get to his golf match.  I'm sweating.  Clem… well she was good, that child LOVES the camera.  So I decided to try and salvage what we got and hope for the best.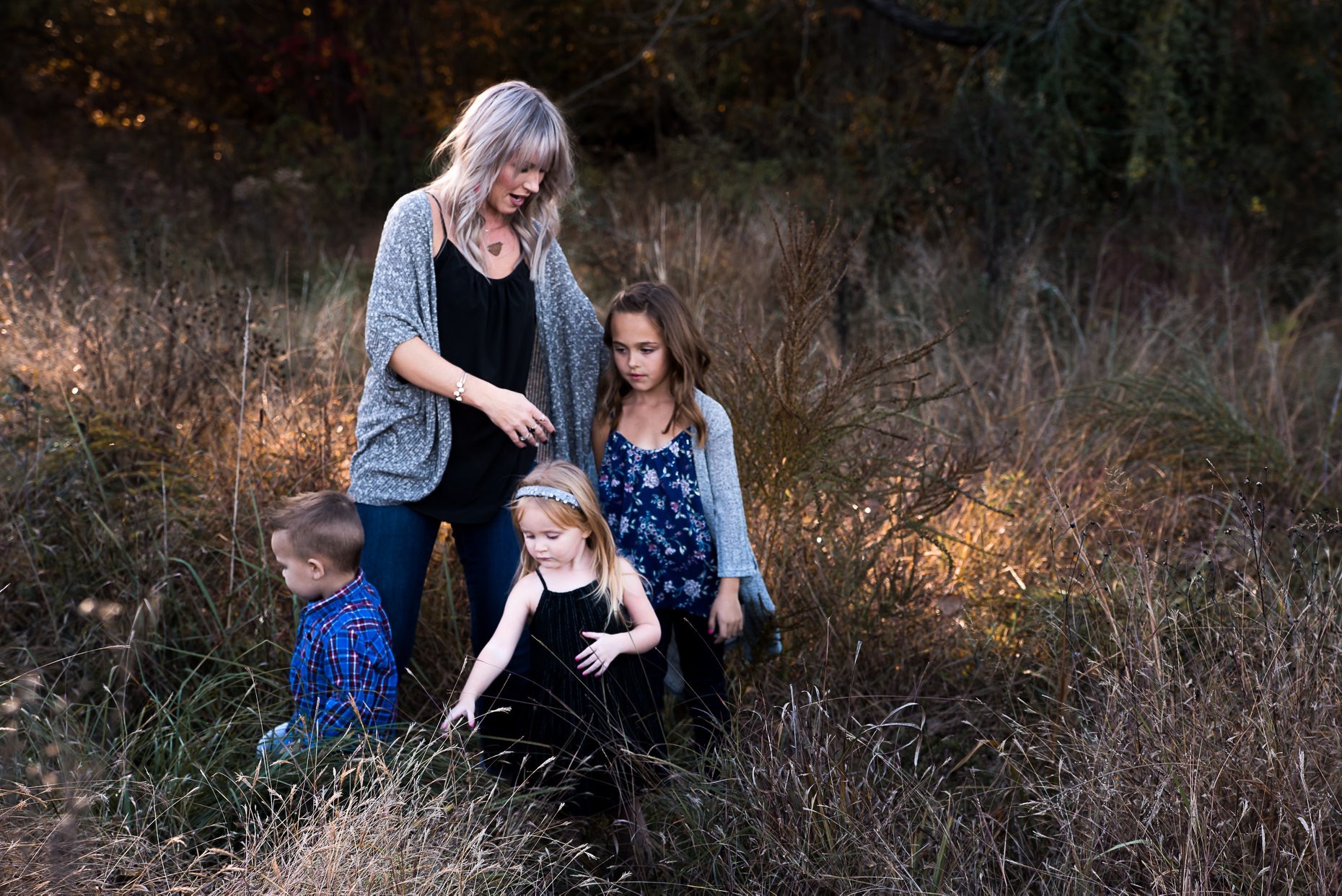 I always say, as an editor I can fix pretty much anything you throw my way… but if an image is out of focus, I cant fix that. There is simply no way to truly fix and OOF shot. Period.
I looked at the back of the camera, anxious. I flipped through the shots. They were a little soft, but so very lovely. My stomach stopped churning. We came back home, Shane headed out, the kids ate dinner and went to bed and I loaded the images to my computer…
Out. Of. Focus. every single shot. Soft fuzzy images staring back at me from my 22' iMAC. I wanted to beat my face into the desk. I immediately grabbed my date book to try and figure out a time when we could re-shoot… there wasn't one.
Then something beautiful happened. As I squinted at all of my out of focus photos, willing them from the core of my being to magically become tack sharp... I began to see past the mistakes. Past the missed focus. Past all the imperfections and I saw LOVE. I saw JOY. I saw LAUGHTER. Smiles and tickles. Tender moments and tears. Thank you Lord for healing my blindness. I can see.
I began to think about how chaotic life is right now. Frankly, it's damn hard. Shane is working a new job. I have two jobs. Julia has two jobs and we have three kiddos in one house two of them being two years old. One who is parented by four separate adults in two different homes, who have extremely different parenting styles. The chaos around me and in my head gets so bad I forget things. Like a lot of things. I forget things to the point where I feel like I may need a CAT-SCAN. I lose my temper often, feel distant from my husband, get frustrated with my sister and the kids and if that DAMN CAT PISSES ON ONE MORE TOWEL I may EXPLODE.
but…
While this season of life is a blur, truly like a carousel running wild, spinning out of control… there is so much beauty. These kiddos love each other hard and have so many grownups who love them back. Us three adults are navigating choppy waters instead of abandoning ship. We say hard things and love each other through them. Every night we get the kids to bed and fall on to the couch tired and ready for a beer, or wine…whiskey? This season is filled with baby belly laughs, booboo kisses, bed time stories, peanut butter and jelly sandwiches found in my shoe and so much more. I don't have a single moment to sharpen my focus… so these photos.. these OUT OF FOCUS PHOTOS are perfect. Never could a set of images represent what my life is like at this moment any better than these do. I will print them and love them and hang them proudly, and when I look at them and see the softness there, it will create a warm spot in my heart when I remember the blur that life was when we had a full house.